Our Inspiration :
Click on images above to visit respective websites in new window.
Vision :
To create a community of Learning, Living, Leading and Loving people.
Mission :
To transform LOCAL CHILDREN and YOUTH into GLOBAL CITIZENS.
Objectives :
To promote human values and commitment to society, in educational institutions.

To enlist the support of all segments of society, including Government, in promoting human values in educational institutions; and motivate them to bring in the value dimension in their workplace.

To take up and get involved in activities aiming for social reforms.

To collaborate in any manner with individuals, organisations or movements with similar objectives mentioned above.
Core Value : To work for self satisfaction, nothing else.
Products & Training Programs :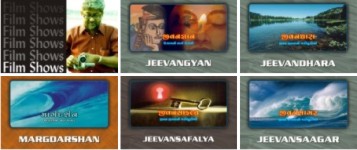 We produce videos for internet and cable television.
We design and publish pocket books, cards, calendars, posters in various languages with an aim to inspire people.
We produce audio books and video discs as support learning material for creating a community of learning, living, leading and loving people.
We design, organise and conduct tailor made training programs for business, industrial and social organisation on various subjects & aspects with a focus on personal, social & professional life.
Click here to download ebrouchure.